Hirao-Sugiyama Laboratory
Overview of our research
Hirao-Sugiyama laboratory is conducting research on process systems engineering and life cycle engineering. With taking various products such as petrochemicals, composite materials and pharmaceuticals as the objects, and by considering their entire life cycles, we aim to develop methodologies, tools, desirable technologies and policies for designing more sustainable processes and systems.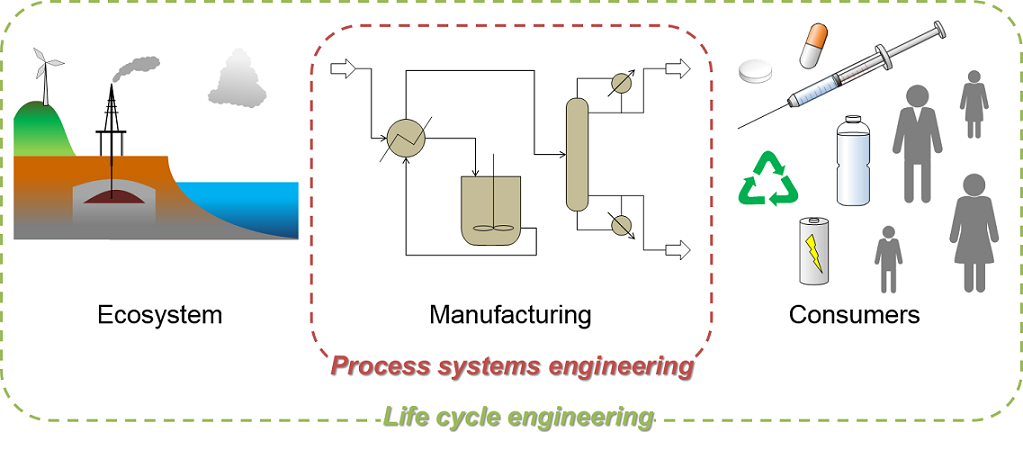 Research motivation and objective
There are various problems to be solved in order to consume and produce chemical and pharmaceutical products in a sustainable manner. On the side of the producers, importance of high-value-added products such as pharmaceuticals or fine chemicals, or environmentally-conscious technologies for utilizing recycled materials is increasing. On the side of the consumers, a mechanism is needed for assuring safety and also for supporting environmentally-friendly behaviors. Towards realization of sustainable society, we need answers for questions such as "how can pharmaceuticals be produced, which have to do with patients' lives, with achieving a good balance between quality and productivity?" or "what is the way to design, produce and consume products with considering environment and safety?"

We are conducting research on process systems engineering (PSE) and life cycle engineering (LCE). PSE is an engineering discipline for designing and operating complex processes and systems related to chemicals manufacturing with modeling and simulation techniques, and has been established as a field of chemical engineering since 1980s. LCE is created by extending PSE in order to cover the entire life cycle of a product from resource mining to disposal, and to perform environmentally conscious design. With exploiting knowledge and methods of both fields, we aim to contribute to the sustainable consumption and production in view of products, processes and the social systems including consumers.


Research theme and approach
Currently, we are working on the following two research themes.

| | |
| --- | --- |
| ・ | Pharmaceutical process systems engineering (Pharma PSE) for multiobjective design of pharmaceutical manufacturing processes: we are constructing methodologies for manufacturing pharmaceuticals, which have the features of "relevant to human lives", "high-value added" and "small-scale and multi-products", in a more superior processes. |
| ・ | Life cycle engineering for sustainable consumption and production (SCP) of chemicals: we are constructing methodologies for the environmentally conscious design of product life cycles with enhancing the cooperation among stakeholders. |
The research outcome is mainly the methodologies for designing more sustainable processes or systems, and the case studies as a demonstration. One important point is the application to the real world. There have been many cases where our findings lead to the improvement of the actual process in the company, or were reflected to the national policy makings on recycling. Another is the international relationship. We have strong research partnerships with ETH Zurich and Bordeaux University including exchanges of staffs as well as students. Also, we have an international research collaboration with a pharmaceutical company overseas, and realized a long-term internship program for a student so far.

The best part of our research is in the process of identifying the problems on our own, combining knowledge and tools in a purposeful manner, and solving the problem. For instance, in order to answer the question of "how does the technology selection in pharmaceutical manufacturing influence the economic performance or quality?", the relation between technologies and economy as well as quality needs to be formulated mathematically. In order to know "how the consumer behavior or the environmental impacts of the product life cycle would change depending on the packaging design", various knowledge is necessary such as chemistry, environmental science, statistics, sociology or economy. By combining knowledge in various academic discipline as if building a bridge, we overcome issues that cannot be solved by applying knowledge in one discipline individually.

The actual exercise is mainly modeling and simulation using computers. Based on the data obtained from market survey or from the actual plants, mathematical models are created which include the phenomena or the scenarios of interest. Experiments are conducted if necessary. It is key to consider how to formulate the evaluation criteria such as quality, environment or safety, or how to visualize the obtained results for decision-making. It is also a privilege for model- and simulation-based researches to be able to test various and sometimes adventurous scenarios before giving impacts on the actual plants or the society.

Related lectures
Here are the lectures that our laboratory is the main organizer.
| | |
| --- | --- |
| ・ | Process systems engineering II (undergraduate 3rd year, A semester) |
| ・ | Process design and practice (undergraduate 4th year, S semester) |
| ・ | Chemical technology and Engineering Ethich (graduate, S semester) |
| ・ | Process systems development (graduate, S2 term) |
| ・ | Advanced lecture on pharmaceutical process development (graduate, A2 term) |
For those who are in department of chemical system engineering and found process systems engineering II interesting, we recommend to consider joining our laboratory for conducting bachelor thesis work.

Related conferences
Here are the conferences where we usually present our research outcomes.
| | |
| --- | --- |
| ・ | Society of Chemical Engineering Japan: annual meeting (March) and autumn meeting (September) |
| ・ | Institute of Life Cycle Assessment, Japan: meeting (March) |
| ・ | European Symposium on Computer Aided Process Engineering (ESCAPE: May–July in Europe) |
| ・ | American Institute of Chemical Engineers (AIChE): annual meeting (October–November in USA) |
| ・ | International Symposium on Design, Operation, Control of Chemical Processes (PSE Asia: held every three years in Asia) |
| ・ | Process Systems Engineering (PSE: held every three years in Europe and USA) |
| ・ | Life Cycle Management (LCM: held every two years mainly in Europe) |